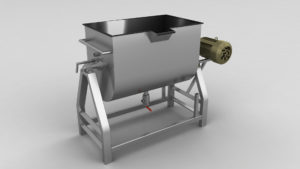 Batch Fryer With W. H. E.
Moong dal (Green Gram) and Chana dal (Chick Peas or Chick Pea) are very popular in the Chinese, Indian and Pakistan cuisine and are increasingly consumed as deep-fried snacks.
If you want to start a small scale business and don't want to invest in fully automatic line, so for this, we have batch processing line. In this, there are different machine attachments for each work and each machine works manually. In this process, we have Dal Washer, centrifugal dryer, batch fryer and batch seasoning system.
Dal Washer
Our Dal washer is made to process high quality and completely hygienic mung dal, moong dal (Green Gram) and Chana dal (Chick Peas or Chick Pea snacks. Moreover, these machines are fitted with reduction gear box. Complete stainless steel body of these machines with hopper and geared motor belt beneath the hopper to feed the raw Dal in to the pre fryer , with Feed control system is largely appreciated.
Seasoning
This batch type flavour mixing machine is useful for Dal/ lentils. The flavoring system is for even coating of Dal with flavors.