Developed with perseverance and creativity, our rotary head extruder machines are used to manufacture kurkure type snacks in a wide range of snack industries. The range of our kurkure extruder machines is designed with excellence to provide worldwide customers with full satisfaction. Horizontally elongated, these sturdy machines are fabricated from high-grade metal and showcase our workers' deep understanding of the latest technology. We offer these machines at pocket-friendly prices.
Rotary Head Extruder for kurkure type Snacks
Prepare Kurkure Type Snacks easily with our innovative Rotary Head Extruder Machines. Horizontally Elongated our Rotatory Head Extruders are fabricated of high-quality metal and demonstrate our precise workmanship.
A hopper attached on the Rotary head Extruder accommodates the raw materials which are further processed. The preparation process makes every piece unique giving it different dimensions and texture.
snacks pellets gain crunchiness after frying. We offer a wide range of Kurkure Extruder machines worldwide for use in a variety of snack industries.
Specifications of Rotary Head Extruders
Rotary head die with a single/double cutter for cutting long/short size pieces
Power requirements: HP.
Capacity: 50-60 Kg per hour.
Floor space: 6ft x 2 ft
Moisture Mixture
Dynamech Engineers is an internationally reputed manufacturer, wholesale supplier, and exporter of Moisture Mixer. Our Moisture mixtures are precision-engineered and robust to meet the changing demands. We have set our name in snack industries and use our technical know-how to provide you the best of machinery. The moisture mixers are used for homogeneously mixing moisture with the raw material by ribbon blender.
| | Moisture Mixers |
| --- | --- |
| Capacity | 10 Kg batch per 3-4 min. |
| Motor Requirements | 1 HP,3 Phase. |
| All contact parts | SS 304 |
| Floor Space | 3.5'*2.5′ |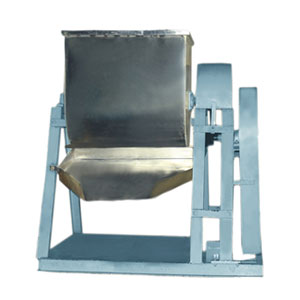 Spice Coating Drum
Now apply any seasoning to your product with Dynamech Engineer's Spice Coating Drum uniformly and add punch to your delicacies. Our Spice Coating Drums are designed in manner in which your spices evenly mix with the Products. Made up of Non-Rusting Material, our spice mixers are durable and long-lasting. Our machines are also used for coating spices on products like Kurkure, Potato Chips etc.
We offer these spice mixing machines at economical prices in variations of sizes shipped both in India and abroad!
| | Spice Coating Drums |
| --- | --- |
| Capacity | 10-15 Kg per batch of 8 min. |
| Motor Requirements | 1 HP, 3 Phase. |
| Floor Space | 3'*3′ |
| Material | SS 304 |
Vibratory Feeder
Dynamech Engineer presents to you high-quality Vibratory feeder with a feed control mechanism to make your process hassle-free. Our vibratory feeders are used for automatic feeding for kurkure, pellets or other items directly into the hopper fryer. Powered with Italian motors, this vibratory feeder will reduce your process time and enhance quality.
Here are the specifications of Vibratory Feeders
Hopper capacity 15-20 Kg
With the feed control mechanism
Fitted with Italian motor